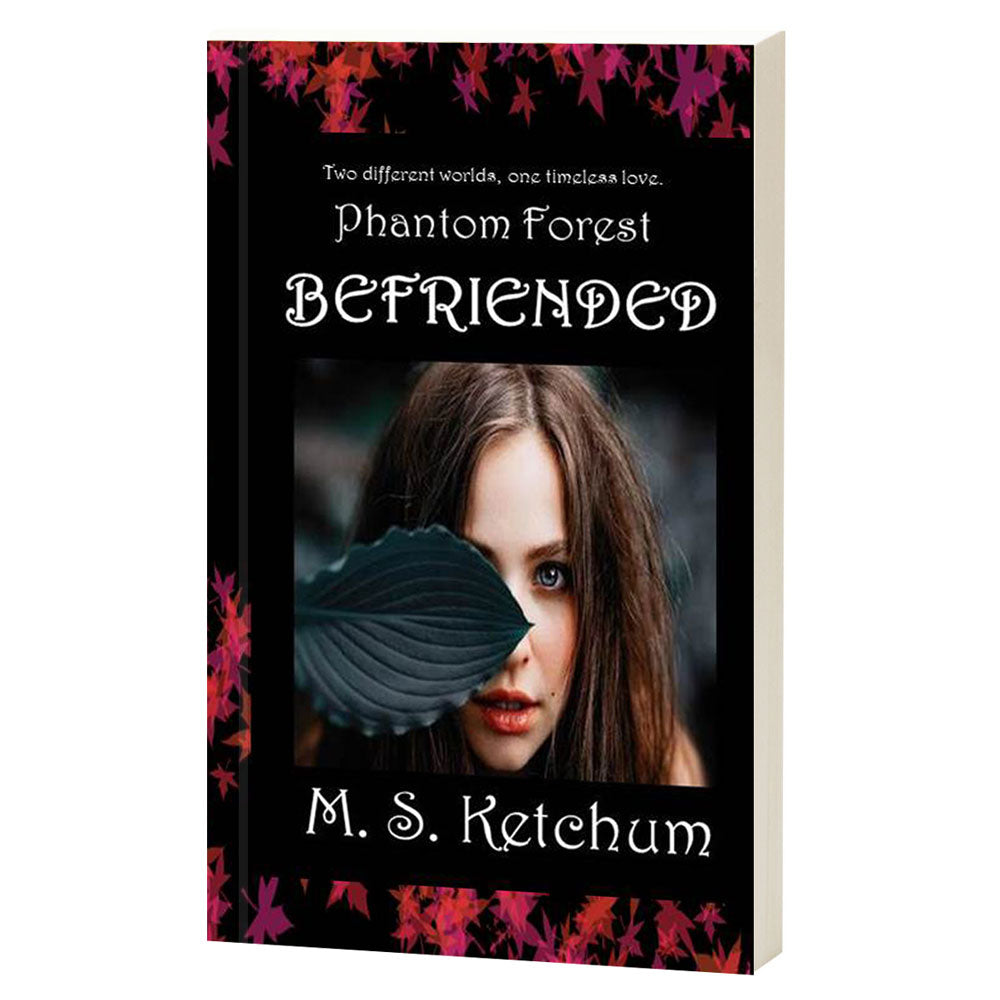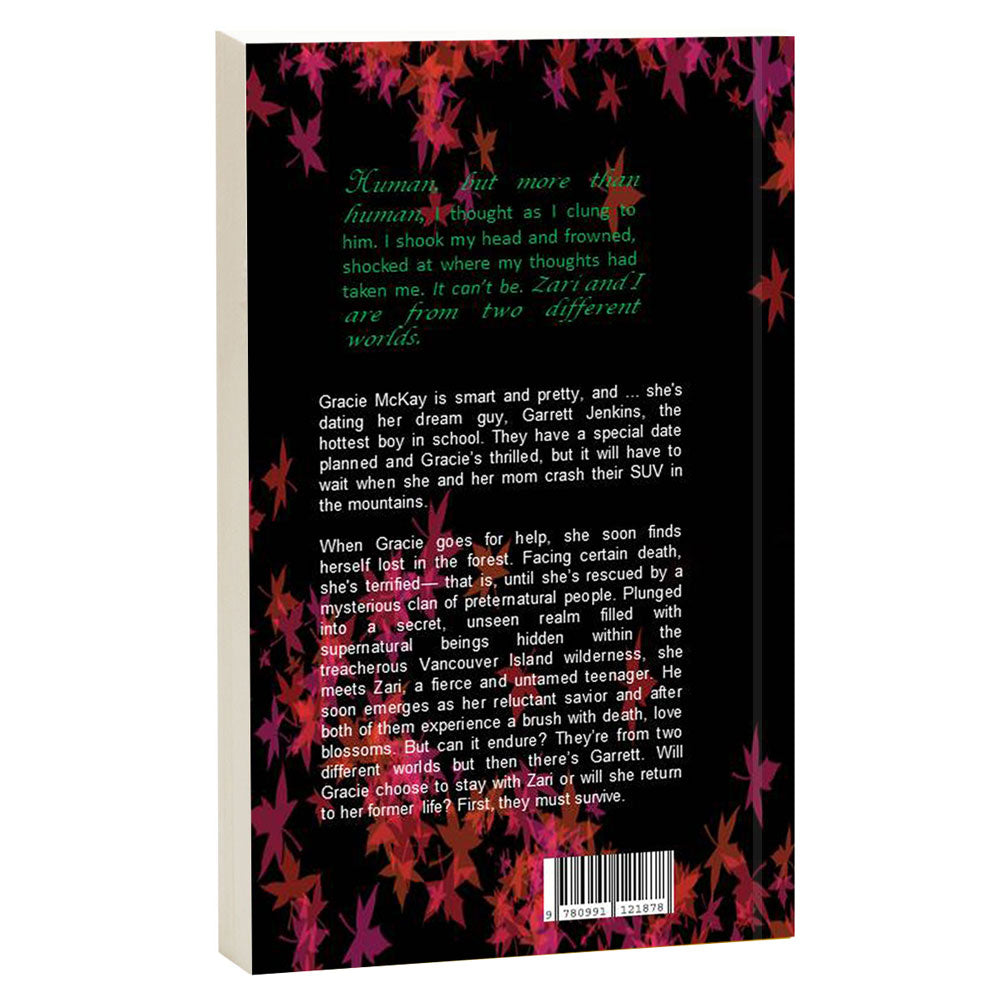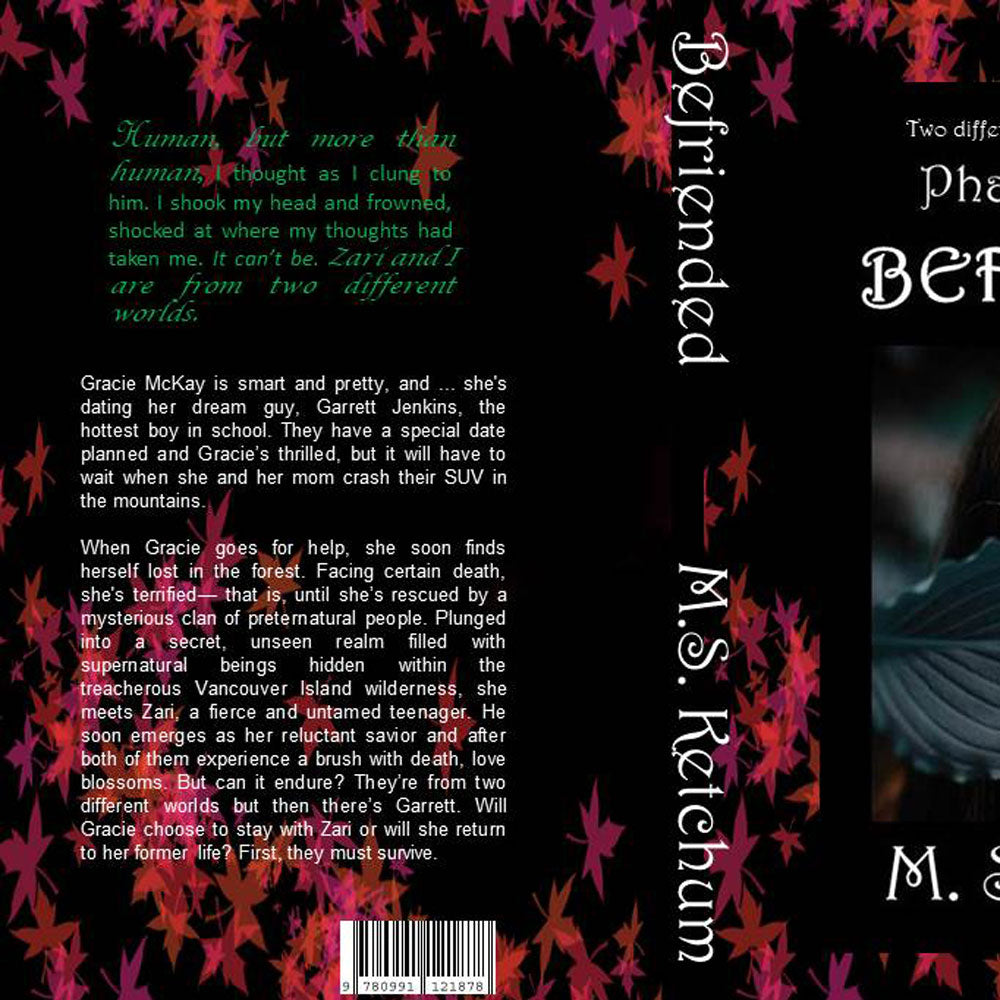 Befriended by M.S. Ketchum
Sale price
$31.99
Regular price
Description
Shipping & Return
Two different worlds, one timeless love. Phantom Forest - Befriended
This enthralling, fast-paced series of books from author M.S. Ketchum will appeal to fans of young adult fiction. Many fans of the Twilight book series have also enjoyed reading Befriended and can't wait to read the second book in this series, Bereft. 
In Befriended, Gracie McKay is smart and pretty, and she's dating her dream guy, Garrett Jenkins, the hottest boy in school. They have a special date planned and Gracie's thrilled, but it will have to wait when she and her mom crash their SUV in the mountains.
When Gracie goes for help, she soon finds herself lost in the forest. Facing certain death, she's terrified - that is, until she's rescued by a mysterious clan of preternatural people. Plunged into a secret, unseen realm filled with supernatural beings hidden within the treacherous Vancouver Island wilderness, she meets Zari, a fierce and untamed teenager, He soon emerges as her reluctant savior and after both of them experience a brush with death, love blossoms. But can it endure? They're from two different worlds but then there's Garrett. Will Gracie choose to stay with Zari or will she return to her former life? First, they must survive.
Choose Paperback or Hardcover copy - 515 page book.
For more information about this series, read our exclusive interview with author M.S. Ketchum below!
A Conversation with M.S. Ketchum about her new book series, The Phantom Forest Saga, and more.
Author M.S. Ketchum is the creator of a new series of fantasy books, the Phantom Forest Saga. Book 1, Befriended, is already out and Book 2, Bereft, will be published in the next few weeks. Readers love the first book and say it is a little like the Twilight series, but with Sasquatch in the forest. 

In Befriended, two young people from vastly different worlds meet in the woods, endure frightening experiences and grow closer together. Readers get to know beautiful forest people from warring clans, meet interesting characters that either help or try to hurt the main character, Gracie, and experience vivid scenes of love, adventure, and the struggle to stay alive. 
M.S. Ketchum
 Q. So let's start with Book 1, Befriended. How did the book come about? What was it like writing it? Did the 'bluebird of creativity' land on your shoulder and the story just start flowing through you onto the page? Or was it more something you set out to do quite intentionally?
A. It was easy…i sat down and started typing! It's the truth. The series is loosely based on my field experience with Sasquatch but I did not make it specifically about that. It's a mixture of Native American legends and my own experiences and some completely fictional made-up creatures. 
Q. I noticed that you made the forest people in this series exceptionally beautiful. 
A. Well if you're going to fall in love with them they'd better be beautiful! Some Sasquatch are very human-looking and some are very attractive, with fine features. I was thinking of one like this as my model for Zari (one of the main characters in the series, a forest person who is the love interest for the human protagonist, Gracie). 
Q. How do you describe the story of the first book, Befriended, in a sentence or two, to people who haven't read it?
A. It's Tarzan meets Twilight. Zari is wild—he's been raised by an evil clan. He's not close to civilization and he doesn't know much about the 'hairless ones' or humans, other than what his mother taught him. He has a lot to learn and he's been taught to hate humans, which makes it difficult for him to adapt. He hates Gracie at first but he has an undeniable curiosity about her as well, so it's kind of a love/hate thing at first, but he was definitely drawn to her. He stalked her! She could feel it. 
Q. Is that something that people can feel, if something is out there watching them? 
A. Yes, definitely. 
Q. Have you experienced that personally?
A. That's personal experience. I've seen Sasquatch before, here in East Texas. First I was taken to see them and then they showed up on my property. They've left feathers, stick structures, costume jewelry in the cat dish…a whole variety of stuff…rocks of various weirdness…they even left live crawfish at my front door! They left one at the door and another one at the gate. There's no sign of any crawfish at this place. There aren't any on the property, so who knows where they got 'em. They always leave stuff where I will be.
Q. What did you do with the crawfish?
A. I let 'em loose in the pond. 
Q. So are you feeding them, (Sasquatch) leaving gifts for them?
A. No. Don't feed them because they get upset if you stop. I'm not actively seeking them…they're here pretty much all the time but I haven't been out there to look. I don't encourage interaction with them because they're not supposed to interact with us. It's just something that I feel is not right to do. They have a lot of abilities that people don't understand. It's best to just live and let live—they're good neighbors.
Q. What advice do you have for those who want to know more about Sasquatch?
A. Keep it in perspective—don't worship it or obsess over it. Don't put it over God or your family. 
Q. Well, that's good advice for sure. Getting back to the book series, the main character Gracie, she starts out so young and shallow and doesn't seem like an exceptional young woman in the beginning…but by the end, she has so much more courage and depth to her. Tell us more about Gracie.
A. She's a typical teenager at the beginning. Grace didn't have a choice—she had to grow up or she was going to die. Stress does a lot of things to people. She was put in danger and had to adapt or else give up. She learned the difference between a really strong puppy love and something that was more substantial when she met Zari. They were thrown together and she had grown as a person enough by that time to realize that she really did love him. 
Q. Is she modeled after anyone you know?
A. No, she's just Gracie.  
Q. In many ways Gracie's journey mirrors the journey so many of us take when we experience a big change, something that pulls us out of our ordinary lives…
A. Yes, people get faced with radical, unexpected changes. It happens in everybody's life at some point. What you have to do is to wait until you know what the right thing is for you to do. Whether it's job changes or a physical disability or something else, you have to wait it out and have faith and pray about it…something will open up. God can bless you and you can do it.
Q. Let's talk about the monsters in the book. The monsters were pretty scary, especially the ones in the lava tubes. Where did you get the idea for those?
A. Yes, they're dark and creepy alright. They just came out of my mind. They're meant to be absolutely horrifying and venomous. They return in another book. 
Q. What about the horses? I loved the wild horses in the story that trusted and communicated with the forest people, and that Gracie gets to the point of being able to communicate with them really well too.
A. The horses return in the next few books too. 
Q. So you have most of the books written already?
A. Yes, I have almost all of them done. The first book was about building the fantasy world and introducing it and the next books continue to build on it. 
Q. What are some things we can look forward to in the next few books?
A. There are more bad guys, new ones. They bring in reinforcements, some totally evil moth men and lizard people, and there will be a big war. Gracie has access to human technology, and she uses that to help the forest people. She does her part with technology and uses that to help Zari, and the forest people do their part with the gifts that they have. 
Q. One of the things I liked about the book was that when two characters touched foreheads, it created an undying bond, so the elders don't want them to do this until they come of age…seems like a metaphor for life and for older people trying to protect the younger ones in their care. 
A. Yes, look at all the drama this causes for them! In the second book she touches foreheads with Garrett and feels nothing.  
Q. So she gets back together with Garrett? How could she go back to boring old Garrett once she had met Zari? 
A. Well, for a while she thinks Zari is dead and she has to try to move on with her life. He disappears after a fight with the evil ones and she's lying in bed, just destroyed. Her parents can't know why, so she says she's sick. She tries to make a normal life with Garrett but eventually discovers that Zari is still alive and then she goes on a quest to find him, back in the woods. She doesn't like lying to her parents and there are a lot of moral issues she goes through, but she'll do anything to protect Zari. 
Q. What do you hope readers will get out of this book?
A. I want people to be entertained, to feel joy, to connect with the characters, to realize that life can be full and wonderful even in the face of adversity. I can't stand a boring book— I want everybody tired and satisfied when they're done with my books. The Phantom Forest series is a feel-good, entertaining series and it has family values in it. Gracie's family is a good, normal family. I wanted the book to show the kind of family that people want to have, with a wholesome life. That's also why I kept the book series clean. It's a romantic series, but it's clean. 
Q. How soon will Book 2, Bereft, be out?
A. Really soon! In the next couple weeks, and people can go ahead and order it now.
Q. Where can you be reached, if readers want to know more about you? 
A. They can go to my Facebook page at https://www.facebook.com/DrMelbaKetchum/ or my Twitter @drmelbaketchum . I also have a website: https://melbaketchum.com
Q. Thank you so much for talking with me today, Melba! We really appreciate it, and can't wait to read the new book. 
A. You're welcome. 
We currently ship products in the Continental US only.
We offer standard ground shipping with USPS, UPS and FedEx.
USA shipping excludes Hawaii, Alaska and Puerto RicoWe currently do not offer any shipping to post office boxes, APO's or FPO'SPlease contact us for all International deliveries
Shipping Costs
The cost of shipping depends on the the weight of the item and the shipping zones. However, shipping is free when you spend the required amount or more. Use the money that you saved and buy yourself a drink. OR easily buy more The Twilight Store merchandise!
Can I track my order?
You will get an email with a tracking number when we process and fullfill your order. Sometimes our shipping services (USPS, UPS, FedEx) will run into problems that are beyond our control. For this reason, tracking is not always available.